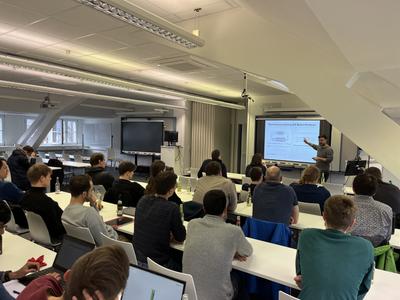 On March 20th, 2023 we had 31 participants visiting the Communications Engineering Lab at Campus West to attend the first Science Spotlight: Machine Learning. The presentations about deep-learning for wireless design and robotics gave a good insight on future applications in the respective areas. In the final presentation about neuromorphic computing and its applications the presenters gave a detailed view on power efficient implementation spiking neural networks on hardware in practice. We want to thank the presenters for their time and effort to give us such a good introduction in their fields, we hope that the attendees will benefit from this event in their future endeavours.
To keep the attention of the attendees up we received generous support by the IEEE Germany section for cold drinks and snacks. We want to express our gratitude for this support.
Following the presentations a group of participants and presenters met up at Badisches Brauhaus to have a well-deserved dinner and some local beers. We have received positive feedback from the participants and we are looking forward to organizing the next Science Spotlight in the near future.